Alfa Laval ballast water management system
The complete solutions to make sure that your asset stays in compliance!

Alfa Laval is the leading ballast water treatment supplier and has developed the market leading technology implemented in the PureBallast products range that outranks other solutions by being type approved according to both IMO and USCG standards (more about the standards here).
In a strong partnership together with Alfa Laval, we provide complete and global solutions for Ballast Water Management Systems on either new builds or retrofitted on your existing vessels. With the expertise in ballast water management and upgrades, service and maintenance, we provide a strong and complete water treatment portfolio in compliance with the International Convention for the Control and Management of Ships' Ballast Water and Sediments.
Together with Alfa Laval we deliver
Survey (Incl. 3D scan)
Delivery of equipment
Engineering
Equipment commissioning
Fabrication
Spare parts and service
Installation
Training of crew
Final commissioning


Our solution – your one-stop-shop!
Semco Maritime and Alfa Laval provide complete solutions for Ballast Water Management Systems. A broad range of services ensures project completion in adherence to both schedule and budget. We supply complete solutions for mobile drilling units and conventional ships. Our services include survey, arrangement proposal, engineering, fabrication of bespoke piping, structural and electrical items, installation and commissioning. Our partnership with Alfa Laval ensures technology choice, expert system installation, commissioning and crew training, including global technical support. Together with Alfa Laval's expertise in ballast water management, we provide a complete water treatment portfolio and solutions in compliance with the International Convention for the Control and Management of Ships' Ballast Water and Sediments.

3D scanning
Semco Maritime can perform a 3D scan of the appointed area for the installation to ensure that equipment and piping models are produced accurately and with minimal survey time on board. We facilitate the allocation of new structures, modules and equipment within the existing environment. Scan data can be utilized to perform clash checks and design the system location. The 3D scanning allows us to prefabricate most of the pipework before installation and reduces the time on board to a minimum.

Design and engineering
Our team of dedicated engineers survey and design the system in conjunction with internationally recognized equipment vendors to tailor-make the system for your vessel. Semco Maritime has in-house experts within all disciplines covering piping, mechanical, structural and electrical. We also offer to take the Class Approval (ABS, DNV, Lloyds) of the engineering package together with updating the Ballast Water Management Plan (BWMP) and have that approved by the State Flag Authority.

Surveying and reporting
Our engineers carry out surveys on-board your vessel wherever it is located. We produce documentation including drawings, reports and photographs to detail the requirement for the installation. This survey report documentation is shared with the costomer and approved partners through a secure web-based platform. This ensures that the best solution is provided to the end-user.

Project planning
In order to achieve a successful project and reduce the out-of-service period, we strive to make an extensive project schedule prior to the commencement of the rig project.

Project execution
Installation can be completed onshore or while the asset or vessel is offshore or en-route. The Ballast Water Management system can be installed during planned rig modifications and upgrades or as an individual modification. When necessary, we mobilize offshore riding crews.


What does the PureBallast 3.2 offer?
The Alfa Laval PureBallast 3.2 is the 3rd generation of the PureBallast technology. It is the leading ballast water treatment system and it is the first solution to be revised g8 ready. The PureBallast systems is chemical free and has the USCG type approval, from the US Coast Guard (USCG), as well as by International Maritime Organization (IMO).

Pureballast offers an outstanding performance in all kind of water salinities and are certified in all types of water: fresh, brackish and marine.

The type approved PureBallast system is the most established system on the market with over a decade of experience in merging compliance with practical needs. The system is a highly flexible system for the biological disinfection of ballast water. The system uses the latest ultraviolet (uv) treatment technology - also referred to as ultraviolet transmittance (UVT) which is the measurement of how much ultraviolet light is able to pass through water. UV treatment is a well-known technology that has been used for over 100 years to disinfect drinking water. The UV system represents the most common way of physical disinfection and removes organisms in accordance with stipulated limits. This system requires no minimum holding time and offers short treatment time as well as minimal space requirements. No harmful by-products or residual disinfectants is generated unlike when using chemical disinfection methods. The UV systems have little or no impact on the environment and do not contribute to corrosion inside the ballast tanks.

This system works when ballast water is taken into a chamber to disinfect or a reactor, where UV lamps produce light at wavelengths of around 185 or 254 nm. But it will depend on the types of lamps and the quality of the quartz glass sleeves/tube. The UV light is constant monitored through the system operation to secure the required dose and the correct intensity for a maximum efficiency.

When deballasting from the ballast tanks, ballast water is pumped back through the reactor, where the final treatment takes place before discharging. This technique by treating during both ballasting and deballasting will ensure minimal risk for regrowth in the tanks which would lead to non-compliance. This systems water flow will therefore not have to use mechanical filtration in any aspect of the process.
Components of the PureBallast 3.2
Pure ballast is available in EX configurations according to ATEX and IECCEx, Zone 1, IIC and T4. In addition to the following, it is possible to choose a wide range of auxiliary equipment that will fit all types of vessels/assets.
System components - biological disinfection:
Filter: In the PureBallast system a filter is used to block the bigger organisms and reduce sediment in the tanks during ballasting. When deballasting, this filter is automatic cleaned because of the backflush using a small portion of the water flow.
Reactor: In the reactor of the system the UV treatment is located. These reactors are available in four sizes and each with integrated flow-optimized elements that will ensure high turbulence and the concentration of the UV dose. These reactors contains specialized lamp sleeves of synthetic quartz, with the advantage of a broader wavelength spectrum which will generate more UV lighting during its operation. To prevent corrosion the reactor is made of SMO steel, and level as well as temperature sensors is establishing as a safety precaution.
System support components:
Lamp drive cabinet: Is a power supply for the UV lamps and are associated with the reactor. This cabinet can be placed in up to 150 meters away from the reactor, which can make more space in the engine room.

Cleaning in place (CIP) unit: This CIP safeguarding the performance of the UV lamps in an automated CIP cycle and in a non-toxic solution. This is to prevent any potential UV impairing in the sleeves.
Control cabinet: The system is controlled by an easy to use touchscreen and will make it possible to start and stop with just a single touch. The cabinet can be integrated in the vessel, rig, bulk carrier or ship control systems.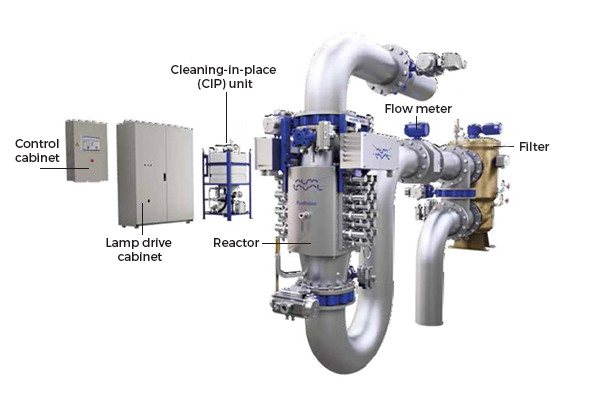 Contact our Ballast Water Management specialists
Simon Wall
Semco Maritime A/S
Esbjerg Brygge 30
6700 Esbjerg
Denmark
Nicolaj Bjerre
Operation Manager, Rig & Offshore
Semco Maritime Inc.
4321 Kingwood Dr. Suite 572
Kingwood, TX 77339
USA