The scope of services:
During the operational phase, the client is required to perform a series of periodical inspections and continuous monitoring to regularly check the integrity of the equipment and assets, identify any change in the load bearing capacity of the structures and serve as a proof of the stability of the foundation elements.
These activities are a mandatory requirement to maintain the validity of the operational permit, which shall be reviewed on an annual basis at the BSH Annual Asset Integrity Meeting. Several activities have been defined in accordance with the relevant statutory requirements as specified under German or European law. The testing and certification scheduled ensure that the necessary equipment does not go out of certification.

Above water services:

WTG support structure, OSS support structure and topsides
Above water services includes inspection & certification of crane, lifting, safety and electrical equipment as well as both screening and detailed inspection of primary and secondary steel work.

Semco Maritime has a broad range of inhouse competences. Combined with relevant and carefully selected Joint Venture Partners and a strong supplier network, we are able to deliver an attractive package. On this specific project we have combined our strong internal competences with inspectors from 1StopWind and our JV partner Bilfinger.
Co-operation and planning are the key to success, why a site manager is located in the clients office (port of operation), in order to coordinate and plan all activities with the client and client other suppliers (WTG service supplier). The year's planned activities has been scheduled and tracked into a project plan, and a dedicated trouble shooting team is allocated to focus on unplanned activities to minimize change in plans and delays.

On the logistic part, our network can offer a broad range of different logistic solutions, whichever is best for particular project. In this case we use a 24 PAX CTV solution, with daily transfer to onshore site facilities
Sub-sea services: WTG support structures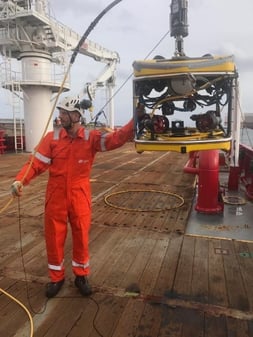 The planned maintenance below water (subsea) includes cleaning of Marine growth by cavitation cleaning tool prior to inspection of primary and secondary steelwork, inspection activities focused on different systems, such as, jacket structure, cathodic protection, anodes and seabed.
The inspection is carried out by use of a DP2 survey vessel deployed with an Ocean Modules ROV with HD camera. The operation is carried out 24/7 why the operation team in addition to the vessel crew consist of 2x2 ROV pilots and 2x 3.4u Inspectors. Depending on the period of inspection, contracts will be made for the required DP2 survey vessel.