While Semco Maritime has not yet defined a travel policy, the divisions are already actively working with reducing the travel activity. One of them is the Product & Technology division.
The division has continued the good habits from the corona pandemic and implemented adjustments into its daily operation. These habits have resulted in a 33% reduction in business travels.
The reduction in business travels takes its starting point in 3 different focus areas:


Make the decision
During the yearly budget dialogs, the Product & Technology division defined an ambition of reducing travelling by 25 % in 2022 compared to the level in 2019. The ambition became a financial KPI and was communicated to all managers in the division.
The division sat up an automatic monthly check of the spend on travel to follow the development in the travel activities closely. In that way, the division could react according to data without spending much time analysing data.
Show that you mean it through action
The Product & Technology division is global. The team supports customers globally and has suppliers worldwide. Back in 2019, before the corona pandemic, P&T colleagues travelled frequently to be able to maintain close contact with both customers, suppliers, and colleagues globally.
Using Microsoft Teams as the primary meeting forum during the corona pandemic, the division continued to have this meeting policy throughout 2022. The employees were encouraged to continue to meet virtually and only travel if necessary and if the business purpose was clear.
Embrace the technological development
The corona pandemic proved that the technological development has provided new solutions that can help us reduce business travels. Virtual meetings are one thing, but for the Product & Technology division also Remote FAT (Factory Acceptance Test) became an important tool.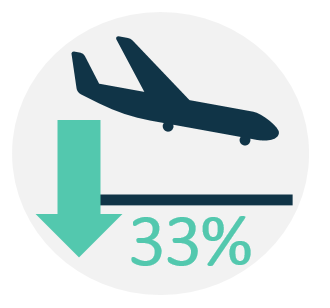 Previously, testing a product required an employee to travel to the factory or having the product flown in. The Remote FAT technology makes it possible to test products virtually without flying products or employees back and forth.
It has only been possible to implement this new technology into the daily operation because both suppliers, customers and employees have embraced it.
Across Semco Maritime, "business travels" will be one of the focus areas within the decarbonisation pillar in 2023.