The network also aims to create stronger social bonds and increase the social network, not only improving the work environment, but also providing a good opportunity for new younger talents to meet other likeminded, thereby integrating quicker into Semco Maritime. The network was founded by young employees for young employees.

Even though COVID-19 has affected the possibilities of having events, the first two networking events were successfully effectuated in August and September. The reaction from the participants were very positive.
On 12 November, our CEO Steen Brødbæk had lunch together with our Dedicated Youth.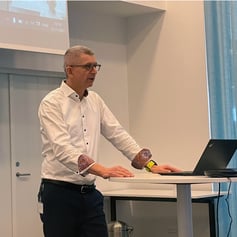 "I am proud of the initiative and dedication behind this
network – and I am blown away by the energy of the group! Today I gave them insight into my personal journey and we touched upon many exciting topics (how to attract young people, diversity and how young people can influence our strategy) – and I left their event both inspired and uplifted!
", says Steen Brødbæk.