Crane boom extension
Customer: Cadeler, Wind Orca

Location:
Esbjerg, Denmark

Period:

2021 - ongoing
In Esbjerg, we assist Cadeler by replacing the jib on their impressive Windfarm Installation Vessel, the Wind Orca.
In order to make sure that Wind Orca can install the largest offshore wind turbines the vessel needs a crane boom extension - from 108 to 115.2 meter by installing a new jib section.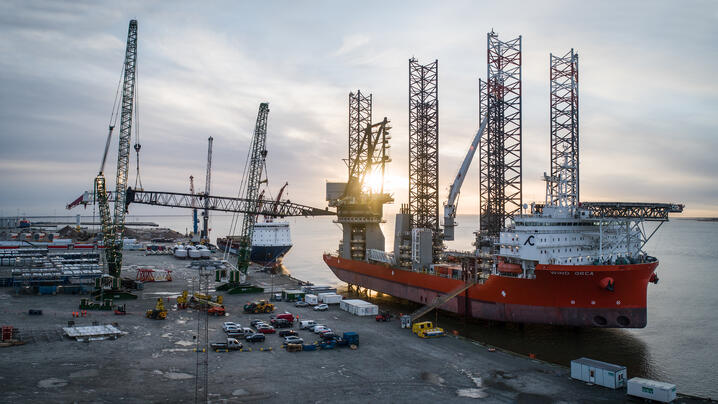 This is a large and complex operation as the crane boom needs to be dismantled from the vessel and positioned on the Q-side.
To dismantle the boom, we need specialists in crane boom wiring and suppliers of heavy cranes need to assist us with this complicated project.
Once the boom is on Q-side, we will cut and remove the tip to access old jib section, the old jib will be removed and a new prefabricated jib installed.
While the new jib is being installed, the old tip will be sent home to our own workshop for installation of reinforcement plates.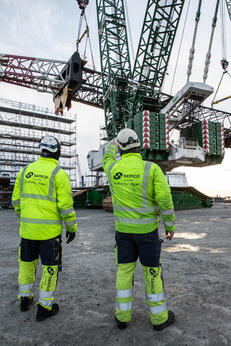 For installation of the new jib section, a large habitat of 40m x 8m is built onsite to create the required environment for welding in high tensile steel.
Additionally, some sections of the old boom also need reinforcement in order to secure the required strength for the new and longer jib.
Furthermore, the vessel itself also need certain modifications and reinforcements is also required on the vessel to fit the modified crane boom.
For further information:Peter Rygaard Nielsen
Senior Proposal Manager, Rig & Offshore Marine
See similar project performed on the Pacific Ospray