Thruster overhaul and maintenance
Customer: Cadeler, Wind Orca

Location:
Esbjerg, Denmark

Period:

2021 - ongoing
In Esbjerg, we are performing an overhaul of thrusters on Cadeler's wind turbine installation vessel Wind Orca at our facility at Tampenkaj in Esbjerg, Denmark..
Our dedicated project managers, scaffolders & mechanics have been working on a total of eight thrusters at a height of 10 meters. Hanging scaffolding was built to ensure easy access and a safe working area was created..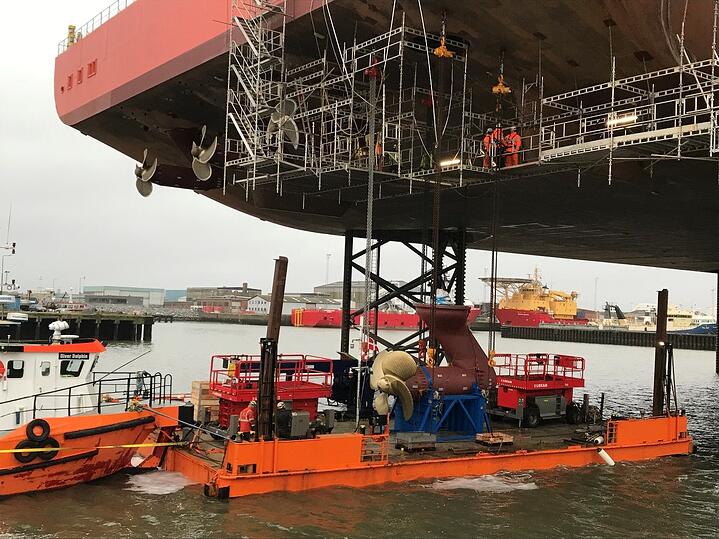 After years of use at the aft, four Azipod thrusters needed to be overhauled, and the propellers were maintained while one of the Azipod thrusters with a weight of about 40 tons had to be replaced. In parallel, the overhaul on two drop down thrusters (Azimuth) and two tunnel thrusters has also taken place. The work included coordination of barge, tugboats, mobile lifts and large cranes.

"A high number of activities are taking place simultaneously on the Wind Orca by other subcontractors. It was a challenge to coordinate the work on the thrusters and to ensure safety at all times. Thanks to many years of project management experience, skilled supervisors and the implementation of safety routines, we have managed to achieve this with great success", says our Senior Project Manager Søren Hede-Jensen.

In about a week, the work on the Wind Orca's thrusters will be ready for a first test. Following this, the vessel will be placed at Arieskaj for the installation and testing of the new crane boom, which has been extended and reinforced.
For further information:
Søren Hede-Jensen - shj@semcomaritime.com
Senior Project Manager, Rig & Offshore Marine